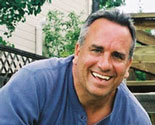 BURGER PROPERTY INVESTMENTS is a full service Real Estate Company that specializes in managing residential investment properties.

Centering our business around honesty and integrity, we maintain the highest ethical standards. We offer a professional service while maintaining a personal relationship with all of our clients.

BURGER PROPERTY INVESTMENTS is owned and operated by Rick Burger. As a Colorado native, Rick has lived and work in the Denver / Boulder area his entire life. He has been involved with residential and commercial real estate in Boulder county for 30 years and has been a Real Estate Broker for 22 years. His expertise is in residential property investments and management.

Rick is a member of the Boulder Area Realtors Association and the Boulder Area Rental Housing Association. All of these organizations hold realtors and property managers to a higher standard. As a member, Rick continues to adhere to these organizations' bylaws and codes of ethics, delivering a level of professionalism and personal service exceeding expectations.






BURGER PROPERTY INVESTMENTS
P.O.Box 271167 Louisville, Colorado 80027
(303 665-6075 office) (303 997-4824 fax)
email - rick.burger@burgerpropertyinvestments.com